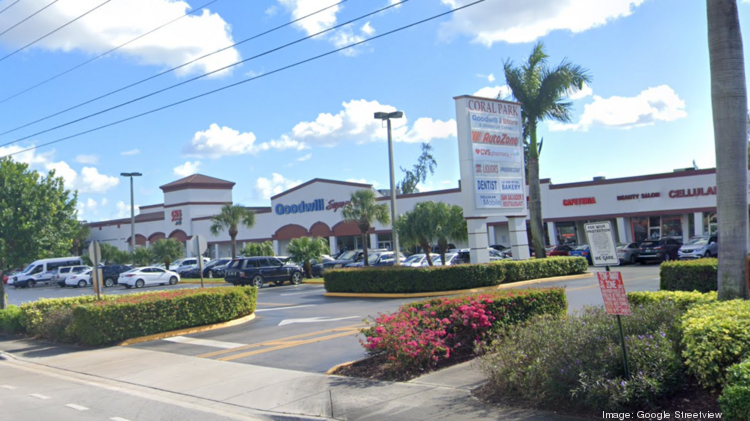 Published on Jun 10. 2022
The Coral Park shopping center in the Fontainebleau neighborhood of west Miami-Dade County sold for $19 million.
OV 4 Coral Park LLC and OV 5 Coral Park LLC, both managed by Joseph A. Sanz in Miami, sold the 60,692-square-foot retail plaza at 9720 W.S. 8th St. to Core Coral Park LLC, an affiliate of Miami-based Core Investment Properties, led by Adam Greenberg and Michael LaPointe. Professional Bank provided a $9.5 million mortgage to the buyer.
The price equated to $313 per square foot.
The property last sold for $13.4 million in 2014, so it gained in value despite the impact of the Covid-19 pandemic. That's likely because it has a strong mix of tenants, including CVS, AutoZone and Goodwill.
Coral Park was built on the 4.7-acre site in 1966 and expanded in 2004. It's a few blocks east of Tamiami Park.
Greenberg said Core Investment Properties typically likes to hold properties for more than 10 years, so Coral Park will offer good long-term value because it's surrounded by great population density and there are limited options for building new retail centers nearby. There is little vacancy in the property.
Core Investment Properties owns and manages about 1 million square feet of office and retail properties in the Southeast, according to its website. Its holdings include the Shoppes of Coral Way in Miami and Palmetto Plaza in Hialeah.
---
Sign up here for the Business Journal's free morning and afternoon daily newsletters to receive the latest business news impacting South Florida. For more business intelligence, follow us on LinkedIn, Facebook, Twitter and Instagram.
More News